By Daniel Brett, original article here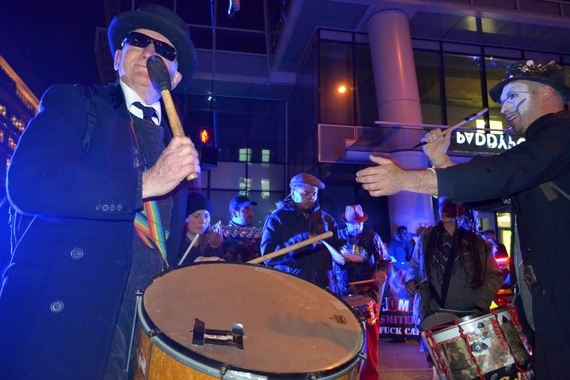 Class War beats a battle cry outside the East End's "Rich Door"
Living in Bow in the Nineties, just one skyscraper dominated the skyline: ONE Canada Square in Canary Wharf. I would see it when I went to bed every night and when I woke up in the morning. With steam pouring from its air conditioning ducts through the night like some steam punk dragon, it winked knowingly at the council estates it towered over. It knew there was worse to come.
The Docklands development was the start of the regeneration craze that was to sweep up inner cities. Back then, it consumed dead docklands and decrepit chemical works. Now it consumes communities. The half-empty skyscrapers and high-rises are proliferating and merging into a Blade Runner-style vista, leaving Canary Wharf looking increasing mundane.
Outside another address with a big "ONE" – the recently completed high-class One Commercial Street in Aldgate in London's East End – the legendary group of anarchists, Class War, say the tide needs to turn. This Wednesday's planned demonstration will be their 18th weekly protest. The growing rambunctious yet non-violent protest has brought together people of all ages and social backgrounds. They are facing a common enemy that is muscling them out with high rents and false promises of inclusion.
Built by the self-boasting "socially responsible" developer Redrow, ONE commercial Street is singular, thrusting, dynamic, phallic. ONE conjures up unity, but it really means tyranny. It tells the community to f-off or be shafted because London is being sold to the highest bidder.
The future of London emerges from Redrow's choice of images: dead-pan faces of the global ultra-rich gaze down on the socially cleansed environment, as glassy as their eyes.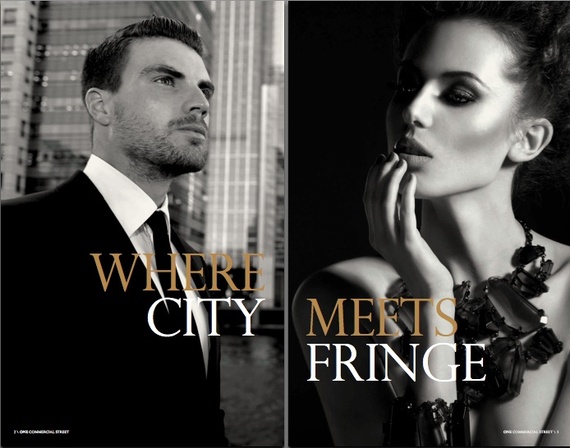 Property buyers are promised a "32% increase in property values" as if this were a good thing at a time of housing scarcity. It's as if the 2008 Crash never happened.
ONE Commercial Street also pledges "regeneration and social inclusion". It achieves the opposite because the goal is ultimately profiting at the expense of a community's survival and the housing rights of the most needy. Instead, it establishes a social segregation based on class
Not-So-Poor Doors
Included within its heavy shaft is 70 units of affordable housing. Generosity? They have apartheid doors to prevent the socially transmitted disease of class awakening. ONE door for the Rich, ONE door for the Poor.
The Rich have concierge service, executive kitsch and chandeliers, while the "poor" scurry round the back to an ill-lit urine-smelling alley. Segregated refuse areas, segregated parking, segregated post: a barrier that sterilises society.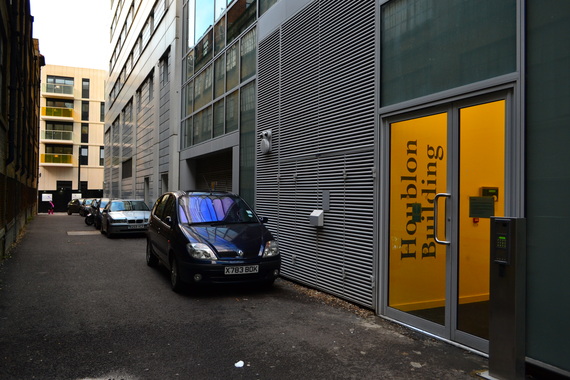 One Commercial Street's "Poor Door"
Well not really poor, because a certain air of class must be retained. This is "affordable housing", charged at 80% of market rates, dubbed "intermediate rent". According to Zoopla's estimates, a studio apartment costs £1,614 per month in Aldgate. So"affordable" means £1,291. A three bed flat to house an average family has an intermediate rent of £2,490 per month.
The housing charity Shelter recommends housing costs need to be no more than 30% of household income to be affordable. So a studio flat owner must earn over £50,000 to live comfortably in her beige minimalism. With benefits capped at £500 per week, the most needy of the poor would have the poor door slammed in their face.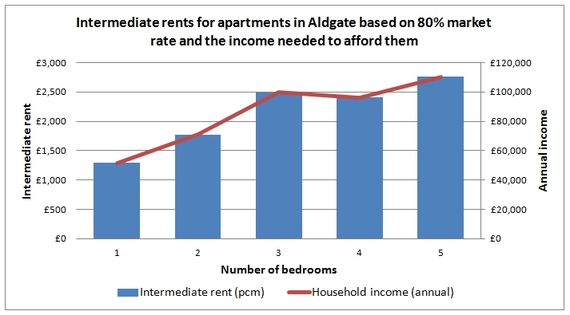 Rent reviews are conducted every five years in a surging market. As such, affordability is increasingly unattainable to the East End working classes. It is also a utopian dream for the migrant workers, compliant non-unionised labourers who pay hundreds per month to inhabit the hidden slums – the sheds, cellars and even cupboards converted into bedrooms. The middle classes are the new poor. The working-class faces extinction amid this aggressive colonisation of the E1 postcode by the mega wealthy.
The Oxbridge policy wonks of Westminster don't let this dose of truth spoil their drive towards spending-lite housing development. Instead they portray the needy as "undeserving" and fixed the benefits cap to exclude all but the wealthiest from central London.
Public housing supports exclusive luxury living
Market rates have soared, sure enough. But it isn't just the market revival that has led to the surge. Thrust into the East End, the ONE has fertilised the ground for foreign property speculation and perverted the local property market.
But the 2008 Crash nearly saw the ONE aborted. For three years, work stopped on the site at the 11th floor as investors fled.
The off-plan sale of 70 units to a housing association in 2012 netted it at least £20mn, a figure that can be derived from Redrow's 2012 accounts, and excitement was aroused in the ONE. The "affordable housing" sale gave an immediate cash injection equivalent of 14% of the total cost of the £140mn building project.
It is unlikely that in 2012, when the market was still in the doldrums, Redrow could have sold the 70 units on the market at the £1mn+ per unit sold in the luxury element of the build. Discounting the off-plan price would have dragged down the prices of the high value suites . So, selling to a housing association was not only crucial to restarting the project, it prevented over-supply on a lacklustre open market.
Having failed to find a market in the UK, apartments were sold to the absent oligarchs of Shanghai, Moscow, Riyadh and Dubai who buy housing like they acquire fine wine and high art: an appreciating asset they won't touch. These are not homes, they are trinkets.
Injected with the opium of exotic currency, Redrow notes: "Following a successful launch in the Far East in February [2012], over 40% of the private properties were exchanged for sale." Apartments are on sale now for £4.35 million. It's a stark contrast to the £17,500 that many households are existing on beyond the foot of the tower.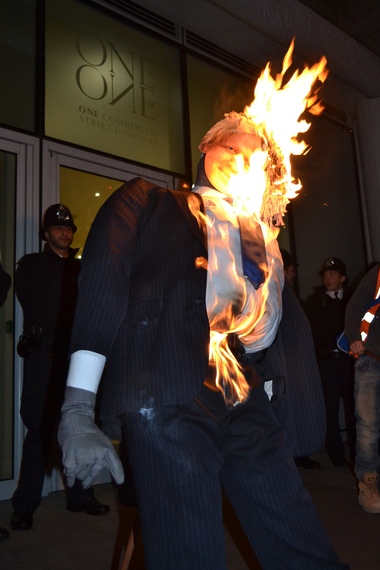 A Class War is Building
But the lower orders are stirring. Protesters say exclusive sparkling blocks of vertical social stratification like Aldgate's 21-storey ONE are no substitute for the joy and diversity of horizontal living. The exclusivity of such "regeneration" is regarded by locals in housing need as a class war waged on them and Class War is rallying in their defence.
The "ONE" is seen as a symbol of a story that is seen all over London. It is a middle finger shown to ordinary workers forced out of their homes to the city's periphery with many being forced into accommodation hundreds of miles from the communities in which they were brought up. Sometimes it's driven by the avarice of the urban gentry and their global corporate friends. Sometimes its opportunist one-party borough councils offloading housing stock for cash using the ruse of regeneration.
New Era Estate in Hoxton is being socially cleansed by its owners – including a company directed by the country's wealthiest MP Tory Richard Benyon. It's ramping rents up beyond affordability. Meanwhile, Newham's Labour Mayor Robin Wales regenerates Carpenters Estate by expelling families in the hope of a private take-over. It is as if the working-class, which has seen wages driven downwards in real terms, are expendable and disposable rather than the very people who keep the capital running.
The streets of Hackney, Tower Hamlets and Newham are restive and angry at gentrification and social exclusion. Russell Brand struggles to keep up, let alone lead this building revolutionary tumult with its spasms of rioting. This is a grassroots surge of discontent, separate from party politics and celebrity.
Smashing the illusion of the Rich, in their weekly Wednesday evening protests outside ONE Commercial Street, anarchist groups with Class War leading the charge, are building strength.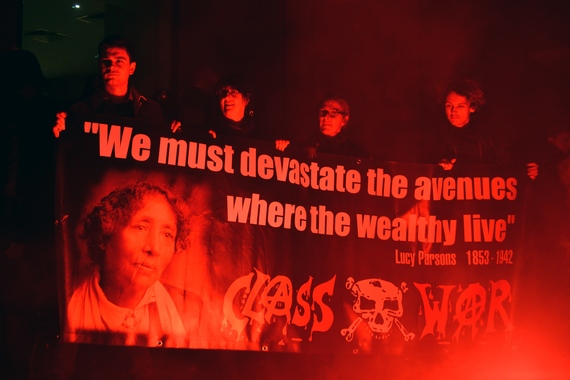 Class War and Thatcherism were political polarities in the Eighties. Under the slogan "We've got to get rid of the rich", the anarchist group has been revived just as "regeneration" becomes a by-word for the final purge of social cleansing that began with "right to buy".
Veteran Class War anarchist Ian Bone told me: "Protests have been ineffectual in resisting gentrification so the rich now feel confident enough to push through social segregation block by block. As the Manic Street Preachers put it, 'if we tolerate this then our children will be next'. For Class war this is a fight we have to win to roll back the forced exile of poor people from London and the turning of the centre into a rich only area."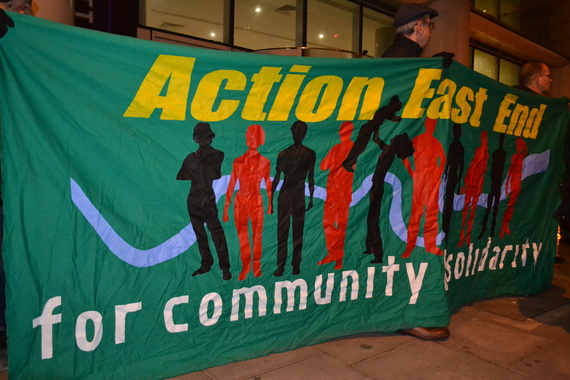 Class War is symbolic of an East End tradition of resistance to privilege and domination, just as ONE Commercial Street is symbolic of unbridled global capitalism. Class War embodies the spirit of an East End that spawned the home-grown Jewish anarchist Rudolf Rocker and hosted Russian revolutionaries from Kropotkin and Bakunin to Lenin and Trotsky as well as a temporary retreat for Gandhi. It's the East End that defeated Mosley's fascists with a boot and a well-aimed fist: the East End that won't compromise.
It's the final showdown. If London is to be a city for everyone, it needs to fight the Rich hard and fast. Otherwise our much-loved capital will become the Whore of Babylon, pimped out to global plutocrats by our morally barren political elite. The battle lines are drawn at the Rich Door of ONE Commercial Street.
Class War, Action East End and Freedom News stage a "Poor Doors" protest every Wednesday 6-7pm outside One Commercial Street. Nearest tube Aldgate East.